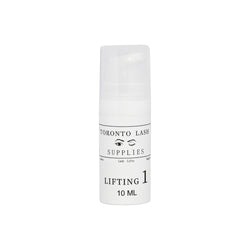 TLS
Toronto lash Supplies Keratin REFILL SEPARATE Lash Lift and Brow Lamination Bottles (20 clients 10 ml )
10 ml package of our lash lift kit bottles. Purchase steps 1,2 and 3 in our pump bottles together for 69.99$  or purchase separately step 1,2 or 3 for refill purposes ! 
Can be used for 15-20 clients 
sodium bromate free
Ingredients: 
Step 1: water , thioglycolate, ethanolamine, cetearyl alcohol, oleth-30, ammonia, pentasodium pentetate
Step 2: water, sodium stannate, cetearyl alcohol, hedp, hydrogen peroxide, disodium phosphate
Step 3: water, keratin, portulaca oleracea extract, sophora flavescens root extract, helianthus annus seed oil , triethanolamine, sodium hyaluronate, hydroxy benzyl ester. 
You may also like
Here are similar products that you may like!