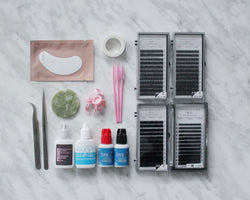 TLS
Classic Lash Extension Kit
We have put together a lash artist's dream! This lash kit features everything you will need to start off your lashing journey! We threw in every tool you will need at a discounted price to welcome you to the club! 
Kit includes:
40 Under Eye Gel Pads
100 Glue Rings
4 Lash Trays of your choosing (Please specify which trays you would like during checkout process or via email after placing your order)
50 Mascara Wands
1 Jade Stone
2 Sky Glue Adhesives
1 Gel Remover
1 Primer
1 Straight Tweezer
1 Curved Tweezer
1 Roll of Tape
You may also like
Here are similar products that you may like!