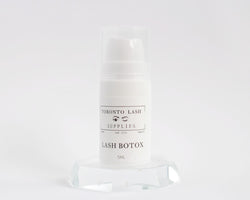 TLS
Vitamin Lash Conditioner
This is an add-on aftercare treatment for lash lifts! Our deep lash conditioner contains vitamins A, B, and B5, proven to replenish permed lashes immediately with nutrients. It provides extra nourishing, hydration, and conditioning effects for lifted lashes. Please apply to lashes after the second step and before tinting. *Please note this product may contain traces of nuts, please make sure your client does not have alon, macadamia, or avocado allergy before using this product.

How to use: Leave the lash conditioner for 3-5 mins and then wash off with a q-tip and water before tinting lashes and after steps one and two.

Ingredients: aqua, hydrolyzed keratin protein, hydrolyzed jojoba protein, m hydrolyzed wheat protein, hydrolyzed baobab protein, sweet almond oil, macadamia nut oil, avocado oil, hyaluronic acid, stearic acid, oleic acid, vitamin a, vitamin b, provitamin b5.
You may also like
Here are similar products that you may like!