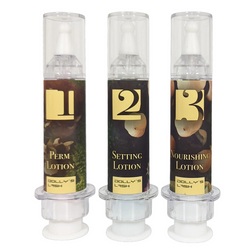 Dolly Lash Lift Syringe Bundle ( all 3 steps)
Dolly Lash Lift is now featured in syringes instead of glass bottles in order to increase freshness and accuracy of usage per lift! Each syringe will be enough for 15 lash lifts and due to the improved packaging, air can no longer dilute the solution after opening! Receive all 3 syringes ( step 1-pink, step 2-blue, and step 3 -conditioner ) in this package deal! 
 Kit includes:
1 Perm Lotion in Syringe ( 15-18 mins processing time)
1 Setting Lotion in Syringe( 15 mins processing time)
1 Nourishing Agent in Syringe (3 mins processing time)
Ingredients: 
Perming lotion: Water, Thioglycolic Acid, Monoethanolamine, Cethyl, Triethanolamine,  Limonene, Sodium Lauryl Sulfate, Benzyl Benzoate, Benzyl Alcohol, Acid Red 92
Setting lotion: Water, Hydrogen peroxide, Cetyl, Flavor, Benzyl Benzoate, Limonene, Benzyl Alcohol, Sodium Lauryl Sulfate, Methylparaben, Brilliant Blue FCF, Keratin
Nourishing agent: Water, Panthenol, Benzyl Alcohol, Limonene, Benzyl Benzoate, Methylparaben
You may also like
Here are similar products that you may like!